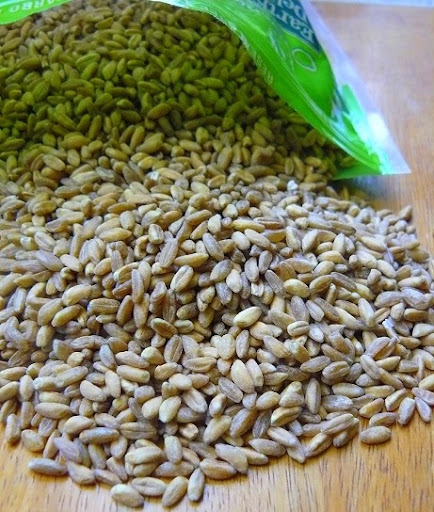 Farro(pronounced FAHR-oh)is one the oldest grains,originally found in Middle East and now grown mainly in Italy.Pearled Farro is incredibly easy to prepare.It is a good source of Protein and Iron.In the following recipe I use left over pumpkin puree from a roasted pumpkin and use it while cooking the farro for added nutrition of pumpkins.Stuffed in mildly spicy
Poblanos
,this is one remarkably delicious appetizer.
Farro is sold in specialty stores and Health food stores.I got my pack from the local Costco retail store.
Recipe : Roasted pumpkin puree
Halve a medium pie pumpkin with a sharp knife.Remove all strings and seeds. Don't throw away the seeds. Wash and roast in oven ,great for munching or for baking.Place the pumpkin halves cut side down in a roasting pan along with a cup of water.Bake the pumpkin until tender, about 90 minutes.Scoop the flesh out of each pumpkin half.Puree in a food processor or blender. Store in Refrigerator for a week and use in baking or cooking.
Recipe :Roasted Pumpkin Farro Stuffed Poblano Peppers
Serves 3
Ingredients
1 cup Farro grain(I used the Earthly Delights brand)
6 large or medium
Poblano peppers
,hulled and seeded
1 cup roasted pumpkin puree(as in the recipe above)
1/2 medium onion,finely chopped
1 medium ripe tomato ,chopped
2 cloves garlic,chopped
1 teaspoon spice mix of choice(I used a combination of chili powder ,turmeric and cumin )
2 tablespoon any chopped herbs(cilantro or parsley)
Method
Prepare the Farro stuffing
Heat oil in a medium pan,add the onions ,garlic and saute for 3-4 minutes,add the spices , 2 cups of water.Bring to a boil,mix in the Farro ,cover and allow to cook until tender about 20-25 minutes on medium low heat ,occasionally stir it.
Stuff and Bake
Slightly cool before stuffing in the hallow peppers.Lay in a cast iron or bake proof dish ,bake at 350F for 15-20 minutes until peppers are tender and skin is lightly browned.Serve warm as appetizers or as a side dish.
This is my entry for
Weekend Herb Blogging
,hosted this week by Rachel of
The Crispy Cook