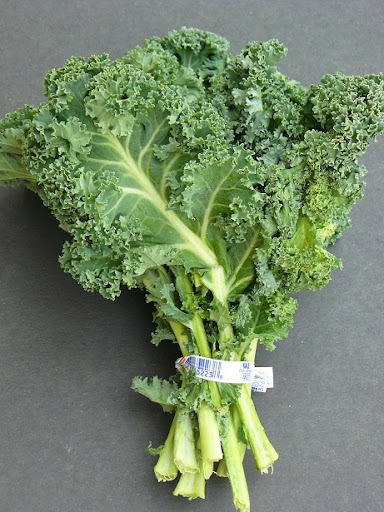 You catch a glimpse of this green almost every time you are at the market,but still haven't made the move to embraced it ,despite learning its health benefits.Why? Remember, when its comes to cooking with Kale ,it is as versatile as spinach.Its not bitter,mild tasting and if you can cook with spinach, then why not with kale,unless its unavailable.The recipes
posted
should give you the confidence to make the move for the good.
Kale's fixed in this recipe with good old pancakes from the land of spices,other wise known as Dosa.Not everyday,but at least once every weekend we feast on dosa.And trying a new medley each week,by mixing and matching the proportion of lentils,greens,herbs and grains,is exciting for me and nourishing for a family meal.
Recipe :Kale Dosa
Makes a dozen large dosas
Ingredients
4-5 medium Kale leaves with stalks,roughly chopped
2 cups lentils and grains(any combination of
Green or Yellow Mung,White Urad
or Barley)
1 inch ginger root ,peeled and chopped
1 teaspoon sea salt
2 tablespoon Canola Oil for smearing on the dosa

Method
Soak the chosen lentils and grains in ample water overnight.
Drain all the water.Grind the lentils ,grains,ginger and kale leaves with 1 cup(more or less) of water to a smooth consistency.Add another cup 1/2 cup of water through the grinding process just until the batter is a as thick as the pan cake batter.Season with salt,stir well to combine.
Heat the non stick pan on medium high. Pour one ladle of batter right in the middle. Promptly make swirls using the back of the ladle. let cook for 2-3 minutes. Flip and let cook for another minute.Sprinkle some finely chopped onions and serve warm with any chutney or lentil soups.
Kale is a member of Cabbage family,with botanical name Cruciferous.
Health Nut Challenge 5
is focusing on these crucial vegetables.Please find the details of the challenge and link up your creations on the announcement page before
April 30th
.
Asparagus Chutney\Spread
Who would have though of chutney with asparagus,other than a spice nut.I whipped up this chutney when asparagus was in full bloom in the markets, couple of weeks back.If you had enough of the sautes then give this chutney a chance.
Recipe : Asparagus Chutney\Spread
Makes 1 cup
Ingredients
8-10 Asparagus,rinsed and ends snapped
1 big clove garlic,peeled and crushed
1/2 cup fresh Parsley(or used cilantro or mint)
Freshly squeezed juice of 1/2 a lemon
2-4 dried red chillies(or use any kind of hot chili peppers dry or fresh)
1/2 teaspoon salt
2 teaspoon extra virgin olive oil
Method
Heat oil in large pan on medium heat,saute the garlic,red chillies and asparagus for 4-5 minutes until asparagus is tender.
Transfer in a blender or food processor along with lemon juice,fresh parsley and salt,cover and run the machine until mixture is finely ground.Store in clean air tight container in refrigerator for up to 2 weeks.Perfect on sandwiches,burgers , dosa or with Brown rice.